Russian River Wonderland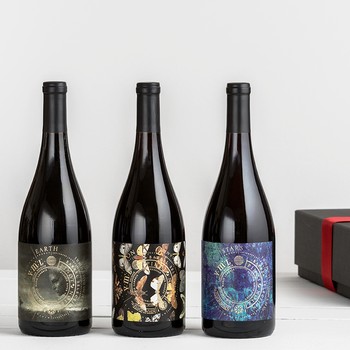 ($177 Value)
You really can gift someone the earth, moon and stars! These extraordinary Pinot Noirs have qualities that wine writer Hugh Johnson would describe as "numinous," defined by Webster as "the higher emotions or the aesthetic sense." In other words, truly extraordinary, spellbinding wines that elicit strong emotion. All three are 2017 Russian River beauties.
Crafting the Earth Pinot Noir is always a lesson in hedonism. This vintage shows aromatic notes of mushroom, maraschino cherry, rose petal, and wet soil. The palate is cigar box, earth dust, blackberry, and cherry jam. The tongue strains to hold the wine's midpalate weight, but the tannins are quite soft and smooth given the concentration. A long finish rounds out the palate, with hints of sweet fruit lingering.
As the moon is influenced by its proximity to the earth and the stars, our Moon Pinot Noir blend is blissfully lost somewhere between the Sonoma Coast and the more inland areas of the Appellation. To achieve this stylistically, we marry floral and earth elements with fruit and tannin. The result is quite sexy, with racy acidity and layered complexity. Chocolate, raspberry, and cinnamon fill the aromatics. The palate flavors move seamlessly, with an abundance of dark, juicy fruits and clove. The finish is surprising in its length…and is possibly the most intriguing piece of the entire experience.
The Stars Pinot Noir has Bing cherry, toasty graham cracker, and rose petal initially floods the nose. On the palate, the wine is elegant and acidity hovers, with fine grain tannins creating a seamless texture profile. Delicate notes of golden raspberry, elderberry, and even more cherry are also present, with the finish being firm with acidity and some length
This is the absolutely perfect gift for the Pinot Noir lovers in your life. Included in the set are the three magical wines, a lovely gift box, a gift card that can be personalized, and a 2 for 1 Celestial Tasting certificate.